Our client, KDV Sport, has a vision to create a top-class international student accommodation and educational facility for young sporting individuals and teams competing both at the professional level and the top end of their amateur games. It is a destination for serious training, academic pursuit and relaxation in the accommodating Gold Coast climate.
It is believed Australia has no comparable sports-training venue, and the Golf and Tennis Academy it adjoins also occupies land abutting the Carrara Sports Precinct, which is the site for many of the buildings hosting the 2018 Gold Coast Commonwealth Games.
Having completed and opened the Queensland design award-shortlisted KDV Golf and Tennis Academy in October 2016, we were commissioned for this project, its second phase, built on the adjoining site.
The briefing for the site has evolved over the span of the project from our first involvement from that for a short-stay hotel to something more substantial.
The project is now to provide both longer term shelter and academic resources for those needing to take seriously both the training of their minds and bodies.
The classroom and supporting facilities this demands have altered the project from a curved to a straight and linear structure.
Again, as in our work on the KDV Golf and Tennis Academy, we have been guided by client project director Wim Steenbeek.
Wim formerly worked as south-east Asia director of design for InterContinental Hotels, and before that worked in a similar senior management position in hotels for Mirvac. He is, deservingly, an exacting client, whose knowledge of designing to meet the operational requirements of hotels has been invaluable, and through working with him we have learnt a great deal.
Follow this link to view Wim's LinkedIn profile.
The following describes the project's evolution to date.
Original masterplan
The project's original masterplan describes the allocation of space to each facility within the larger site, the access plan and orientation in accordance with the initial client brief.
The site is on a floodplain and we located the accommodation building at its corner because that was its highest point, which is above Q100 – a flood event that has a probability of occurring once in 100 years.
Based on our experience in stage one of building the KDV Golf and Tennis Academy, had we placed it elsewhere, we would have had to raise the building.
Original concept volumes
The images to the left depicts architectural volumes, and the inspiration for these early drawings comes from Harry Seidler's philosophy of aiming always to give all of a building's users something, which may be a view, sun access or other benefit.
Where the KDV Golf and Tennis Academy was glass and transparent, for the accommodation we want to change the language for the building to be more solid in appearance. Because this is accommodation, it couldn't be fully transparent.
We tried to achieve this with Mondrianesque colours to make it young and funky. Coupled with very simple geometric shapes, this colour palette conforms strongly with the ideology of Bauhaus-style design.
Earlier short-stay accommodation (hotel) design
Conceptually, earlier scheme's master plan was accepted by the client, but Wim Steenbeek's background in hotels guided us in how to design the facility based on how many square metres of guest room a hotel operator or a targeted market wants.
We were required to design the guest rooms at 18 sqm for a single bed and 24 sqm for a double room. At that point, the building could have been a hotel for short-term student stay of, say, up to one week, but not then yet long-term student accommodation for a stay of, say, 10 weeks.
As short-term student accommodation, where people would come and stay there to try tennis or golf, we thought the western wing might be where the parents and coaches would live, away from the kids' noise, with the eastern wing being the students' accommodation.
The building's middle section formed the main entrance with void and function rooms, with entertainment spaces above on each floor including TV room, with an open laundry, games room and kitchen, which could be seen and felt from the entry lobby to provide a young, active atmosphere.
With flexibility for the future to accommodate a changing market, the ability to change the configuration of the room and guestroom mixes became key to the design.
Modular design
We came up with a modular, open plan allowing for rooms of either 18 sqm x 4 = 72 sqm, or 24 sqm x 3 = 72 sqm to be allocated internally without ever changing the façade.
The pie shape of the plan created flexibility to add and reconfigure units according to those possible future demands.
An 18 sqm room had three panels on the front façade, while a 24 sqm room had four panels in a standard size.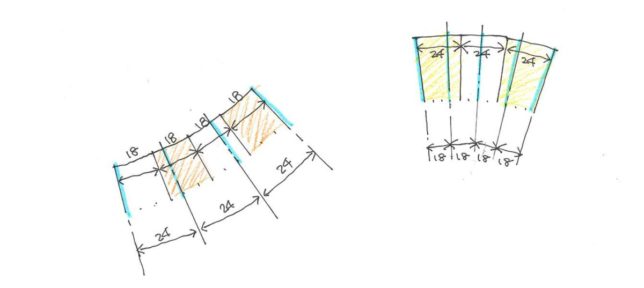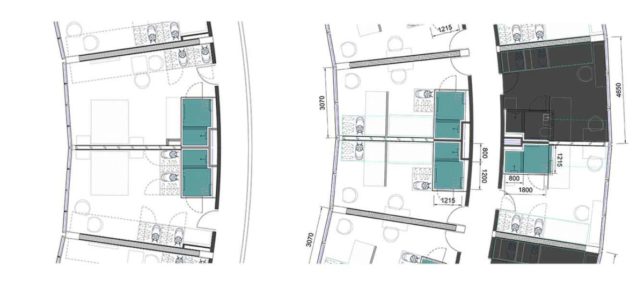 Modular façade study
Because sometimes the window could be here and sometimes there, and we used, say, four to five standard prefabricated panels in one size, we could allocate any panel architecturally, which naturally created a more interesting façade.
Long-term accommodation
The DA for this scheme was at end of the process of approval, but something had been lost in translation between Australia and the client in Siberia, and at this point we found the client's intention was actually to create longer rather than shorter term accommodation.
As such, the students it was to house needed educational, medical and psychological support with a proper canteen and a nutritious meal plan being served up appropriate to the needs of young, growing sportspeople.
This fundamentally changed the brief, making this no longer a leisure building but one that would become a true "sports academy." This, in turn, necessitated a change configuration and budget.
What may have been interesting in design for a building intended only for leisure was no longer appropriate for its new purpose.
Transition of purpose
The client wanted the council to accept this to be a minor amendment to the existing DA and flood study, without changing the volume of the building or that of excavation.
Now becoming an academy instead of merely hotel accommodation, the building costs could no longer sustain the original shape without increasing the project budget.
The orientation is fundamentally the same, but the building had to become straight, with additional meeting and library space for education, associated medical rooms and increased back-of-house facilities for more staff. A canteen with outdoor dining continues out to a broader landscaped area with swimming pool, where students can enjoy social activities in the agreeable Queensland climate.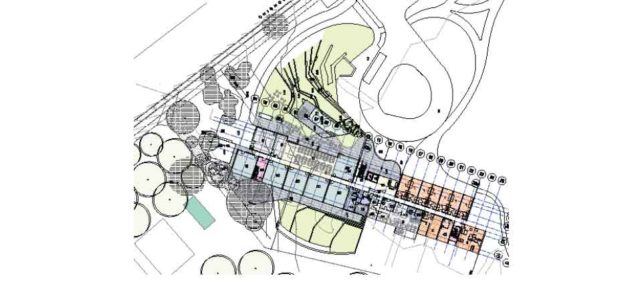 The evolving façade
Applied to its new purpose, the first design, lightweight with the deeper façade and curvy geometry, was obviously going to prove too expensive, so the design evolved to become linear and modular without the former depth of façade in precast/pre-finished concrete panels.
In accordance with the client brief/business plan, we aim to create products that are simple in design and which can be mass produced easily.



Rhythm in uniformity
There is nothing wrong with the repetition within the long uniformed shaped building as long as it is allocated rhythmically.
Sun screening (awnings) to north-facing windows were designed in a similar Bauhaus-style building to comply with Section J regulations.
By incorporating maximum cantilevered horizontal awnings and vertical sunscreens into the window system, these elements cast substantial shadows onto the building to reduce solar heat gain, provide weather protection and facilitate natural ventilation.
Shadows cast at different hours of the day change the building façade naturally according to the time of day and season, rather than by using decorative materials.
By referencing the Bauhaus subtly, while incorporating elements of contemporary design styles, no additional colour needs to be added to make the building's design interesting.
KDV student accommodation specifications
No of rooms: 72
No of guests: 166
Floor area: approximately 3000 sqm
Other facilities:
student canteen + lounge 100 pax (commercial kitchen)
5 x lecture rooms, 25 pax each
coin laundry
amenity
swimming pool
students' sports locker room
caretaker accommodation
BOH